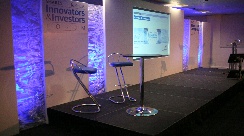 We wholeheartedly recommend GBPro as an exceptional AV supplier for all of our conferences and would not consider venues where we cannot use GB PRO. Their services extend far beyond a basic, vanilla AV offering, including other complementary areas such as the exhibition space, room design and so on. With GB PRO as part of the event production team we can relax and know that things will be run smoothly and in a highly personable and hands-on manner.


Ben Duckworth
Managing Director
Capital Markets Events Ltd


Who we are

Audio Visual for conferences and live events

At GB PRO the client comes first. The technology is intuitive and blends into the background allowing you to focus on the presentation and the audience.
We are an audio visual company who makes it happen.
We work as your partner to deliver stress free seamless events.

Our goal is presenter confidence.

GB PRO's philosophy is to deliver quality events using the most appropriate equipment, techniques and personnel available whilst providing realistic pricing for our clients.

GB PRO were fantastic to work with at every stage. We presented them with a uniquely complex and difficult site and a wide range of AV requirements. The team worked with us in a way which was sympathetic to our logistical, budgetary and aesthetic needs, to create an AV package which worked brilliantly in the context of our show.
I simply cannot recommend them enough."

Chris.
University of the Arts